Making the 90-mile drive between Milwaukee and Chicago is generally unremarkable thanks to modern roadways. Yet one recent trip was anything but unremarkable.
That's because scientist Fred Binkowski from the School of Freshwater Sciences at the University of Wisconsin-Milwaukee and a Wisconsin Sea Grant aquaculture specialist was transporting something very special, something even prehistoric, on that jaunt south on I-94.
In a 300-gallon tank, he was trucking the biological equivalent of 135 million years of Great Lakes ecosystem history in the form of 14 Lake Sturgeon for public display at the Shedd Aquarium. That's likely to happen sometime this spring following quarantine for the safety of all the fish already at the Shedd and the new ones soon to take up residence.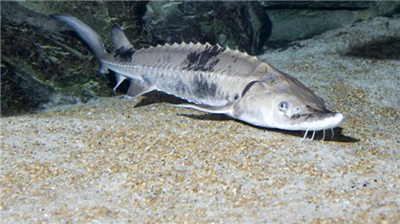 A resident Shedd Aquarium Lake Sturgeon will be joined by others from Wisconsin once they come out of quarantine, likely in the spring. 
Credit: Brenna Hernandez/Shedd Aquarium
Read the rest of the story HERE.
Copyright 2013 University of Wisconsin Sea Grant Institute
University of Wisconsin Sea Grant Institute, 1975 Willow Dr., Madison, WI 53706-1177  
Phone: (608) 262-0905